The Title of this book bugs me soo much! When you write a book, you do not always get to pick the title, I am hoping this was the case with David Jeremiah. It has been a LONG time since I have read any of his books. So I was happy to review it.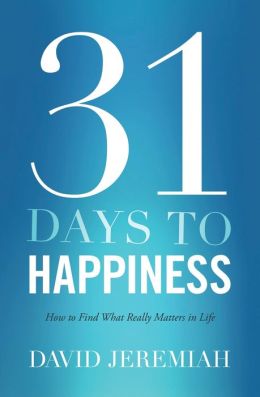 Boring Title, Boring cover.
It does not tell you with the title that the book is a 31 day devotional through Ecclesiastes.
I think it is billed this way to make it "seeker-friendly" especially with statements like:
"Don't you deserve a little happiness?
Ever wonder . . .Why is life so frustrating?Is happiness within my reach?Is it too late for me?"
OR:
"If you thought happiness was only an empty hope, maybe you've simply been looking in all the wrong places. In this book Dr. Jeremiah reveals the way to the happiness you have longed for, the never-dimming light of your fondest dreams."
What it doesn't tell you is the book as it goes through Ecclesiastes, modern era stories from places like Sobibor, quotes and thoughts from philosophers such as Victor Frankl, Albert Camus, and others discussing "What is the meaning of life?".
Quotes:
"Life is not empty, random and godless, but full & precisely aligned and G-d ordained. It's not that your most important work is meaningless; it's that your most trivial moments are also significant."
"If our faith only works when when everything is rosy and upbeat, it's not worth very much. Faith kicks in when the roof falls in. We keep up our spirits and fortify our selves by trusting in G-d's presence and promises despite the dismal circumstances."

"The word why occurs 430 times in the Bible."

"Life-the awesome gift of God- should not be afflicted by the paralysis of analysis. We will either be frozen in fear over what comes next or so confused over the meaning of it all that we will not notice the joy leaking out through the seams of everyday living."